Graphistudio world leading storybook manufacturer
The range of Graphistudio Storybooks come from an Italian company that has over 20 years experience producing memorable wedding books and were the first to innovate printed, one off, graphically enhanced books.Their books are hand bound using their continuous page binding system which enables every page to open flat and have a perfect panoramic view.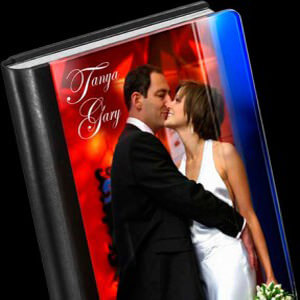 Books can be finished in sumptuous, world renowned Italian leather, luxurious silk, metal, contemporary transparent or classic leatherette covers. Internally the books are bound with thick, card like pages which are produced with a photographic process, rather than a digital process, rendering the images with much richer and more vibrant colours. Also, the pages are laid out in a pleasing, modern style which you will be proud to show off to family and friends. They are the height of luxury.
The Graphistudio books can be chosen as part of either the Full or Half Day packages available. The base Graphistudio packages come with a customisable hard backed cover or a designed dust jacket as standard. Whereas, the Graphistudio Premium packages include a fully designable Premium cover chosen from a wide range of materials and styles.
The Hard-backed cover or Dust Jacketed versions are available in 20x30cm size only, whereas the Premium books are supplied in the following sizes:

Vertical
20×30 • 25×35 • 30×40 • 35×45 • 40×50
Square
Sizes available:
20×20 • 25×25 • 30×30 • 35×35 • 40×40
Landscape
Sizes available:
30×20 • 35×25 • 40×30 • 45×35
Premium Cover Range
The superb range of Premium covers from Graphistudio will give your wedding book that certain something extra. Your book will have the wow factor you are looking for, which when combined with the skill of your photographer, this will be the perfect show piece to remember your special day.
Living in the digital age means nothing is permanent, photographs exist virtually and can be easily lost. This is why having a physical book you can touch, feel and cherish is very important. With a book of this quality, your family in a hundred years could be looking back at your wedding day photographs. Having a special album for your wedding pictures is a worthy investment.
Listed below is a brief outline of the premium cover range. However, Graphistudio carry an extensive and beautiful selection of products you can choose from. To view it, please click the link to download the full Graphistudio Catalogue (7mb).
Classic Leather

This is a timeless classic which even the most demanding and discerning customers will be happy with. This line in luxurious Italian leather offers a beautiful feeling to the touch with a wide choice of colours.
The Die Cut versions offer a lovely way to customize your book with a picture inset amongst the leather. Have your photo toned to the same colour as the leather for added style or ask for optional embossing or engraving of your names onto the leather. Simple and elegant…
Metal
A favourite of DC Photographic this cover gives a modern look with a stylish touch. Have the cover with a photo of your choosing to give you something elegant but trendy, simple but eye-catching. The Metal cover is certainly the option for you.
Available in polished or brushed, silver or gold.
Varnished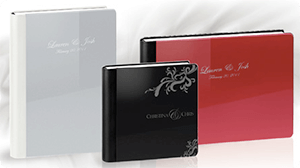 The elegance associated with modernity makes the Varnished a clean, but attractive cover, with crisp, clean lines and desirable colours (available in metallic or pastel shades).
The engraving of the names and date, the rounded edges and the varnished metal plate stress the clear lines and create the perfect product for the customer looking for an understated and classy wedding book.
Crystal Glance
This is the new generation of acrylic covers, with modern styling will take your breath away. The smooth transparent surface is as pure as crystal and will keep your favourite picture, looking beautiful.
The transparent Crystal Glance…stunning!
Soft Silk

Silk has always been another term for elegance and excellence, and now you can associate these characteristics with an exclusive and completely customisable product. The stunning Soft Silk covers are an exquisite addition to our range of Graphistudio Photo Storybooks. Available in a wide variety of styles the Soft Silk has something to suit all tastes. The cover image or design is printed on to a sumptuous, soft Italian silk and hand bound to form a book that you will not want to hide away.
Hard Cover & Dust Jacket Books
The Graphistudio storybook comes as standard hard-backed if you do not have a premium cover. There are two options, the fully designable Hard Cover book or the customisable Dust Jacket covering a plain hard-backed book. Both book types are hand bound using their continuous page binding system which enables every page to open flat and have a perfect panoramic view. They also enjoy beautifully thick, card-like pages which are produced with photographic paper to give excellent colour reproduction to near what comes out of the camera.
Hard Cover
The Hard Cover option, with its clean, professional look, is ideal for wedding day photographs. The cover image can spread throughout the front, over the spine and back cover to produce a breath taking album you will want to share with friends and family. The photo cover is applied on a rigid cardboard to give longevity and a coffee table book like appearance.

Dust Jacket
The Dust cover jacket is printed on metallic paper to give a punchy, almost three dimensional effect to the photograph. The jacket wraps the book, covering a plain, hard cover which gives the book a touch class to make it stand out of the crowd.